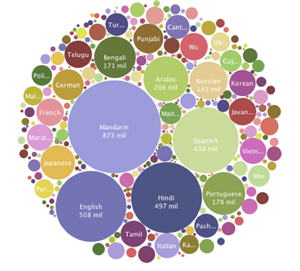 ENL Entrance and Exit Process
ENL stands for "English as a New Language." This is the class formerly known as ESL (English as a Second Language).

Do you know how ENL works?

When students enter any district in New York, either in pre-K/kindergarten or as a transfer student from another district, state or country, their parents fill out a Home Language Questionnaire as part of the registration process.

If the questionnaire indicates that the student's family speaks a language other than English at home, a qualified person will interview that student and administer the New York State Identification Test for English Language Learners (NYSITELL), to determine the student's English language proficiency level.

The Proficiency Levels are

Entering (Beginner)
Emerging (Low Intermediate)
Transitioning (High Intermediate)
Expanding (Advanced)
Commanding (Proficient)

If a student does not score Commanding (Proficient), he or she will receive federally mandated ENL services.

Students may be excused from ENL services two years after they pass the New York State English as a Second Language Achievement Test (NYSESLAT), which is administered every spring. They can also be excused two years after they score at the Expanding level on the NYSESLAT if they also score a Level 3 on the NY State ELA test.