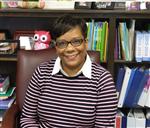 Thank you for being an important teacher in the lives of your children.
Thank you for being active in your child's education.
Thank you for bringing them to Oakside each day so they can learn and grow and play...read more.
Gracias por ser un maestro importante en la vida de sus hijos.
Gracias por ser activo en la educación de su hijo.
Gracias por traerlos a Oakside cada día para que puedan aprender y crecer y jugar...leer mas.