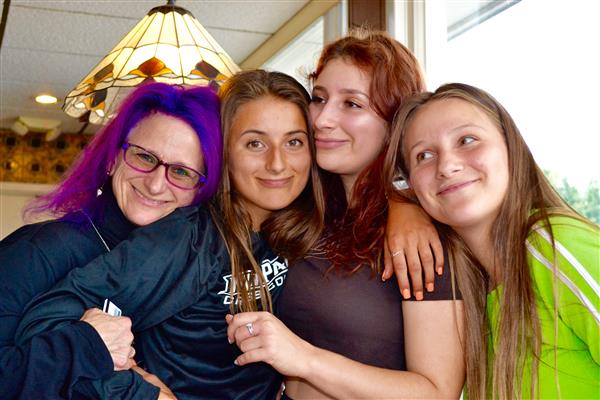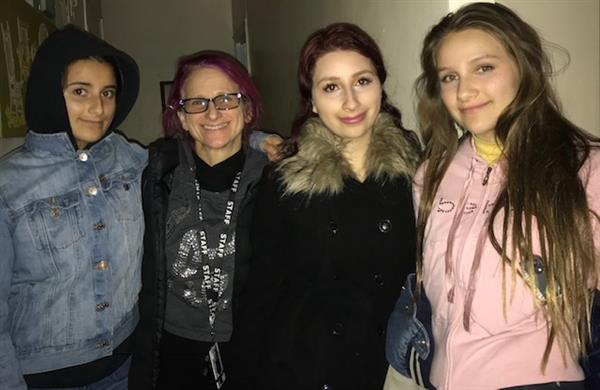 Phone: (914) 739-2284
Email:
Degrees and Certifications:
MS, The Banks Street Graduate School of Education BA, Hunter College NY State Permanent Certification Elementary Education K - 6 and Bilingual Education NY State Permanent Certification ESL and Spanish (Pending)
Ms.

Karina Flores Reininger

¿Les gusta la foto? ¿Pueden adivinar cual soy? :-)


Conociéndole a Karina Flores Reininger:

Maestra del Sexto Grado de la Peekskill Middle School Este es el octavo año que Karina Flores Reininger ha servido como maestra en el Distrito Escolar de Peekskill Sra. Flores está muy contenta trabajar con esta facultad tan bondadosa y profesional.

Una educadora de la educación primaria y bilingüe por más que 25 años, Sra. Flores apoya entusiásticamente la meta de multilingüismo para todos.

Sra. Flores estudió en la Universidad de Puerto Rico por un año y recibió su bachillerado de Hunter College de CUNY (Universidad de la Cuidad de Nueva York). Tiene una maestría en la educación bilingüe y la educación primaria de Bank Street Graduate School of Education. Tiene la certificación permanente del estado de Nueva York en la educación primaria y la educación bilingüe y ha cumplido todos los requisitos de las licencias de ESL ("Inglés como Segundo Idioma" por sus siglas en inglés) y del español.

En el pasado Ms. Flores ha trabajado como directora de una escuela bilingüe en Brooklyn, donde los alumnos hablaron dieciocho diferentes lenguas, ha enseñado inglés y español en el vecindario del Harlem del Este en la Cuidad de Nueva York y ha sido maestra del kínder, primer grado y español en una escuela progresiva.

Sra. Flores ha trabajado en el programa de dos idiomas de Peekskill con la meta del pleno bilingüismo – excelencia en los dos idiomas. Los alumnos en la clase buscaron la excelencia en entender, hablar, leer y escribir en los dos idiomas.

A Sra. Flores le encanta utilizar todos los ricos recursos del distrito para enseñar todos los temas de una manera dinámica, divertida, auténtica y efectiva.

Sra. Flores pasó cuatro años viajando en barcos de velas pequeñas y ha cruzado el Atlántico y la mitad del Pacífico en barcos que medían menos que quince metros. Ella ha vivido, trabajado y estudiado en diez países hispanohablantes. Sra. Flores siempre está buscando oportunidades aprender más. Aprende mucho de sus alumnos y de sus tres hijas hermosas y bilingües. Vive con ellas y con su esposo mexicano en una casa roja. A Sra. Flores le encanta estar en aire libre con sus hijas y con sus once queridos mascotas.

Do you like the photo? Can you guess which is me? :-)

Getting to Know Karín Flores Reininger:

Peekskill Middle School Sixth Grade Teacher

This is Karín Flores Reininger's eighth year as a teacher in the Peekskill City School District. She is very pleased to continue working in our collaborative and compassionate community.

A Spanish Language and Early Childhood Educator for over twenty-five years, Ms. Flores is an enthusiastic advocate of multilingualism for all. She completed a year of her undergraduate course work at the University of Puerto Rico and received her BA from CUNY's Hunter College. She also holds a Masters Degree in Bilingual and Early Childhood Education from The Bank Street Graduate School of Education. She has Permanent New York State Certification in both Bilingual Education and Early Childhood Education and she has completed all the requirements for her ENL and Spanish Licenses.

Ms. Flores used to implement the Peekskill Dual Language Program as a quest for comprehensive bilingualism and academic excellence in both languages.

Ms. Flores loves teaching in Peekskill, where she is able to inspire her student's creativity while receiving support from the gifted professional faculty and administration. Ms. Flores is taking advantage of the district's wonderful resources to teach all subjects in a way that is dynamic, fun, authentic and effective.

Ms. Flores spent four years traveling in sailboats and has crossed the Atlantic and half of the Pacific in crafts smaller than forty feet. She has lived, worked and studied in ten Spanish Speaking Countries. Ms. Flores is a life-long learner who learns a great deal from her students and from her three beautiful bilingual daughters. She lives with them and her Mexican husband in a red house. Ms. Flores loves being outdoors and playing with her kids and eleven pets.