Return to Headlines
Kindergarten Concierge Welcomes Peekskill Students Back to School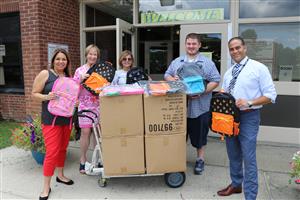 Students across the Hudson Valley Region recently headed back to school for a new academic year, and those entering Peekskill's Woodside Elementary were greeted with a particularly warm welcome.
Thanks to some creative ideas from the school's new principal, Mrs. Rebecca Aviles-Rodriguez, and a collaborative effort between the District, the United Way of Westchester and Putnam, and Costco, Woodside's students and their caregivers had the opportunity to visit a "Kindergarten Concierge" and "First Grade Front Desk." These tented areas were set up outside the main entrance of the building and created a space for parents to drop off supplies, have their questions answered and discuss any concerns regarding the first day of school.
Additionally, to help students be as prepared as possible for the new school year, the United Way and Costco donated 150 backpacks filled with school supplies, which were distribute to students upon their arrival. Free books were also available for students to take home.
"We want to help Peekskill in any way that we can to make sure the children are successful," said United Way of Westchester and Putnam's President/CEO Ms. Alana Sweeny.
"The United Way has a focus on education, income and health with the goal of helping people to be self sufficient," Sweeny said. "One of the ways that we do that is to offer support in education and reading, and Peekskill is one of the district's we've partnered with for our United to Read program. With that, we recognize that the classroom can't do everything alone, so we're looking to try to provide supports in whatever way we can with our resources- whether it's through 211, getting books to children who don't have them, or making connections like we just did with the backpacks."
Principal Aviles-Rodriguez noted the positive impact that receiving brand new backpacks and school supplies would have on her students, and thanked the donors for their generosity.
"This really means the world to us," Mrs. Aviles-Rodriguez said. "Our families are grateful to any stakeholder who is willing to come and contribute to our vibrant community, and we thank the United Way and Costco on their behalf."
Peekskill Superintendent Dr. David Mauricio, who helped coordinate the donation efforts, was equally appreciative of the community's support of Peekskill's youngest learners.
"I would also like to thank the United Way and Costco for donating these backpacks and supplies," said Dr. Mauricio, who helped staff Woodside's Kindergarten Concierge on students' first day. "These resources will certainly help our students stay on track for great success throughout the school year."