Return to Headlines
Peekskill Students Suit Up Before Heading to MBK Youth Summit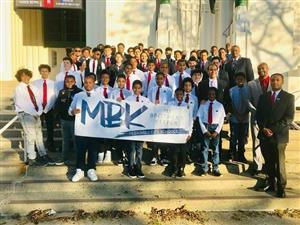 On Wednesday, October 24, the afternoon before almost 50 of Peekskill's My Brother's Keeper (MBK) students embarked on a trip to the White Plains County Center for the first MBK Youth Leadership Summit, the Peekskill City School District hosted a tie tying ceremony to welcome students to the program and prepare them for the next day's event.

The nation-wide MBK program was launched by the Obama administration in 2014 to address the persistent opportunity gaps faced by boys and young men of color. The initiative focuses on providing opportunities so that all young people can reach their full potential.

At the tie tying ceremony, both Peekskill's middle and high school students in the MBK program were welcomed to PHS' newly renovated auditorium as music played and building principals led the way. Two parallel lines of PCSD Board members, administration, staff, community stakeholders and elected officials shook hands and exchanged high-fives with students as they entered.

"This is a very important initiative and we stand behind it 100 per cent," said Peekskill Board President Mr. Michael Simpkins as he gave opening remarks to the students at the ceremony. "We want you to grab ahold of this journey, and take the opportunity of this learning experience to be mentored by men and community leaders who care about your well-being."

The 2018-2019 MBK program at Peekskill High School initially inducted nearly 50 student ambassadors at the October 25 ceremony, and has since added over an additional 20 student mentees in the two weeks following the event. All students have been assigned to adult mentors, with student ambassadors serving as peer role models as well to help support their fellow MBK mentees.

"As an ambassador, you have the ability to impact others," said PHS Principal Mr. Rodney Arthur. "You were chosen as leaders to represent not only the middle and high school, but the entire school district. That is a badge of honor that you must wear with pride."

Before the close of the tie tying ceremony, MBK ambassador Justin Smithson joined PCSD administration and staff on stage for a ribbon cutting to officially open the renovated auditorium, and to celebrate the MBK ceremony as the room's first event of the 2018-2019 school year. Afterwards, students were paired with attendees who helped teach them how to tie their ties. MBK students were also presented shirts, pins and blazers from the district to wear to the next day's Summit.

At the MBK Summit on Oct. 25, students were accompanied by mentors, PCSD administration and staff, community members and even Peekskill's own Mayor Andre Rainey. The group listened to motivational guest speakers, met students from other MBK programs throughout our region and learned more about the program's initiatives.

"The combination of these two events has already made a powerful impact on our young MBK men," said Peekskill Superintendent Dr. David Mauricio, who accompanied the students to both events. "I can see the sense of hope and pride that these experiences have already instilled in our boys, but more importantly, I can see the affection our mentors have afforded our students and how willingly these young men have opened up to embraced this genuine regard for their well-being. I'm looking forward to seeing these partnerships grow over the school year."

Click here to watch a video from our MBK Tie Tying Ceremony.